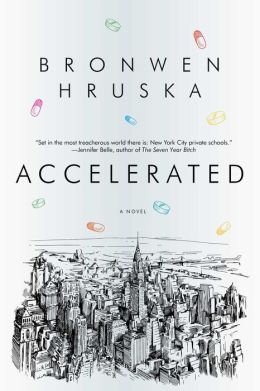 I recently read a book, Accelerated by Hruska Bronwen the concept intrigued me and then her writing captivated me. The story is a satirical thriller. Bronwen's savvy writing brings contemporary issues into the light. Accelerated explores the pressure schools are under to improve test scores and the length the schools may go to achieve excellent marks. It also illustrates the parents' battle to choose between what they believe is best for their child and what the school states is best. It is hard to go against the pressure a school exerts when they believe your child has ADHD and you are doing nothing about it.
Sean Benning believes his son, Toby, is a normal child. He may not sit in his seat all the time and he talks to his friends before class rather than going straight to work, but he is a third grader. Isn't this what third graders do? This is where our story meets the headlines. Currently there are numerous investigations into schools that are pressuring parents to have their children evaluated for ADHD. Sometimes the diagnosis is wrong. Sometimes children have reactions to treatment. The story comes to a head when Toby's best friend dies. The Bradley School issues a press release saying he died from peanut allergies, but he was not allergic to anything. Sean becomes concerned and asks questions just as the school increases the pressure on him, to place Toby on medication.
I did warn you that this is a thriller, right? The body count is low, but the story will not disappoint.
This novel is fictional, but it is not far from reality. I recommend this book for parents, teachers and young adults who hope one day to become a teacher. Perhaps we can meet children where they are and forego the medication. Prepare to sit back and enjoy an excellent story.